LifeX is a coliving solution offering beautifully designed and spacious shared apartments. We believe that finding the perfect home should be a quick and hassle-free experience. Whether you are moving in from abroad or just down the street, at LifeX you can arrive with just your suitcase and settle in right away.
Find your home
Nordic style coliving apartments in great locations
Our apartments are centrally located in some of the most popular areas in Paris and are thoughtfully designed with a Nordic human-centric approach, making them perfect for socializing with your new housemates.
There are 0 available options in paris. Would you like to be updated on upcoming availabilities? Then subscribe to our email list and we will let you know once we have new rooms opening up.
Subscribe
Just bring your suitecase, we take care of the rest
Our homes are fully furnished and equipped and we take care of a variety of services. This way you have more time to focus on doing the things you enjoy most.
No move-in fees
We don't charge any move-in fees. You only pay your deposit (approx. one month of rent) and a prepayment of the last month of rent.
Maintenance and cleaning service
Our support team takes care of all maintenance requests and our professional cleaning service cleans your home on a regular basis.
Shared supplies
In our 'Service Plus' apartments, we even provide a variety of supplies that everyone in the house can use, such as toilet paper, hand soap, coffee, tea, salt, pepper etc.
Flexible terms
Our minimum stay is only 3 months with a 1-month termination period, but you can stay as long as you want.
Digital contracts
Our rental contracts are super straightforward and can be signed securely and digitally.
Design furniture and equipment
All our homes are fully furnished, equipped and decorated with high-quality furniture from Nordic brands like HAY and FDB.
Community events
We organize regular community events and sponsor fun activities that you and your housemates can participate in together.
App and global network
Connect with our global community via the member app, request a room swap in another city, join one of many interest groups and start growing your network in the city.
One bill a month and that's it
With our truly all-inclusive prices, you know what to expect and there won't be any surprises at the end of the month.
LifeX coliving
Rent
Utilities
Maintenance
Cleaning service
Taxe d'habitacion
High-speed internet
Netflix & Disney+
Community events
Designer furniture
Traditional studio
Rent
Utilities
Maintenance
Cleaning service
Taxe d'habitacion
High-speed internet
Netflix & Disney+
Community events
Designer furniture
See what our members say
Get access to our member-exclusive app
The LifeX app is the cornerstone of our member experience. Having all communication centralized in one place makes your life easier than ever before.
Contact support via the chat functionality
Join local and global events and interest groups
Swap rooms for a weekend getaway
Manage your membership
Access all information in one place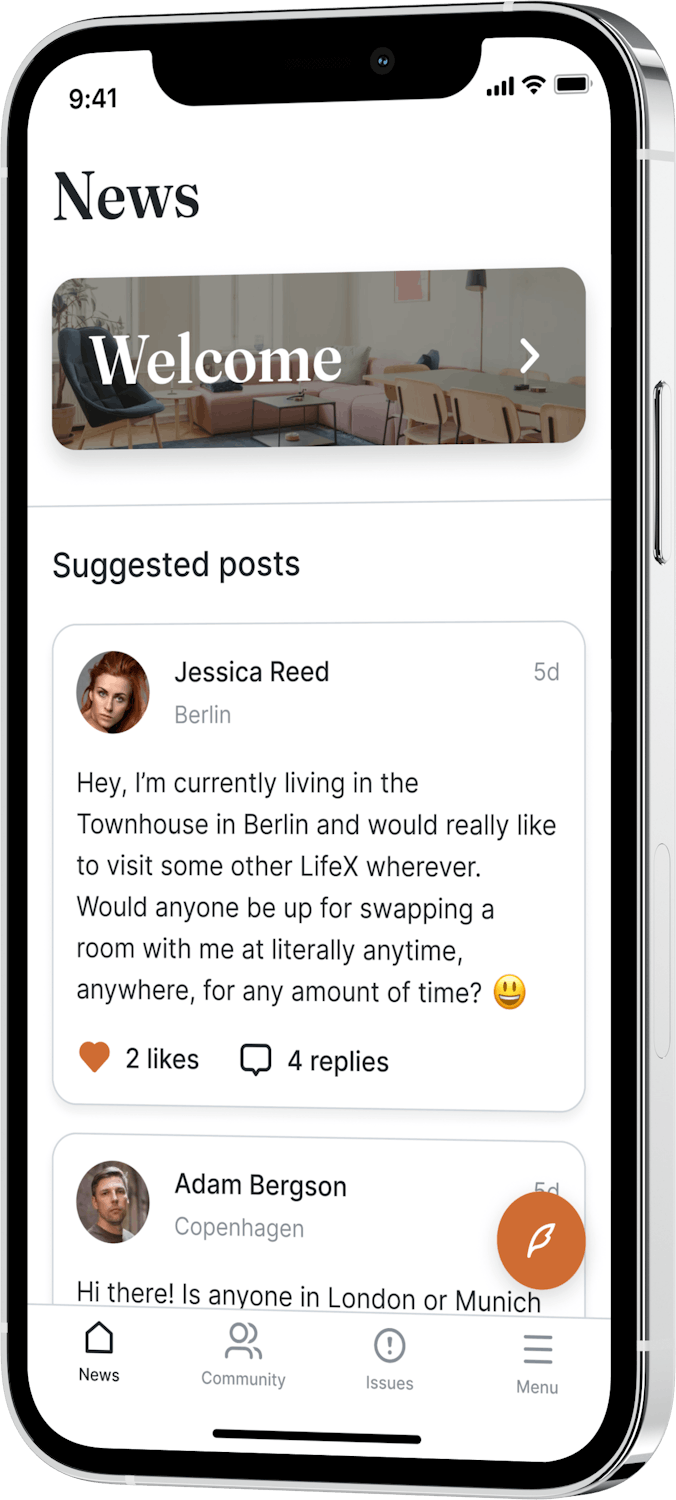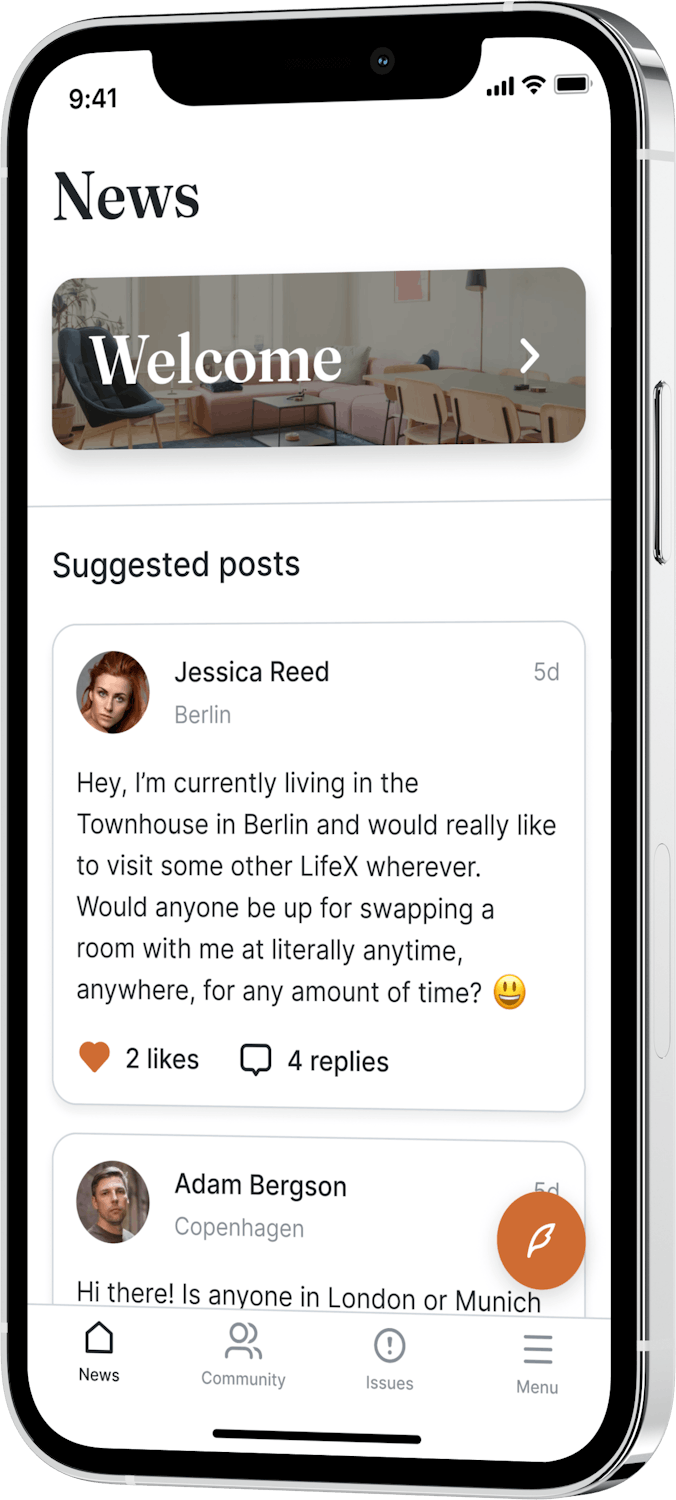 Only a few steps from finding your next home…
Find a room
Check out all the available rooms and sign up. We are happy to help you further on a call and send you a personalized room offer.
Book
Let our team know which room you would like to book, and we will take care of the 'paperwork' for you. Our contracts are actually fully digital, making it easy and quick to sign.
Move in
Simply arrive at the date and time of your preference, drop your suitcases and get settled into your new home.

Are you ready to join?
Sign up and our team would be happy to help you find your perfect room.
Sign up
Featured in